Our SPORT FISHING BOATS are licensed for up to 6 anglers.
We provide everything that you will need;fishing license, tackle, professional equipment, ice and live bait. Our USCG Certified captains and International Game Fishing Association (IGFA) qualified first mates have years of professional tournament experience and are courteous, uniformed, drug tested, clean-cut and college educated. We use proven fishing methods (live bait, kite, night, drift, troll, and bottom fishing) and state-of-the-art electronics to fish for sailfish, dolphin fish, tuna, shark, kingfish, marlin and many other local varieties. We are licensed and insured. We go out for 1/2 day, 3/4 day, full day, night fishing and extended charters. Catering can be arranged too.
Great Memories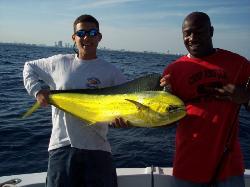 Beautiful Fish
Professional Instruction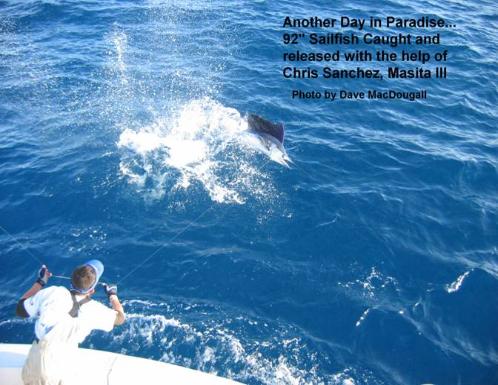 WE CATCH AND
USE LIVE BAIT
PLUS PROVEN METHODS
FOR THAT FISH
OF A LIFETIME!!
We specialize in putting together fishing tournaments for corporate groups that have a mixture of beginners, enthusiasts and professionals. All tournaments are geared toward what the client wants. We organize professional tournaments that are hardcore and very competitive with huge cash prizes. All tournaments are fun, thrilling and very memorable. We guarantee that someone will catch the fish of a lifetime.
We will have a tournament master captain handle all of the details including working with your group coordinator to organize the teams in advance. The master captain will oversee the tournament and work with all of the other boats to ensure a fun, entertaining and well organized event.
If your company or group has a theme or corporate branding message that you would like displayed on the certificates, hats, etc. are all welcome. Our crew will gladly wear your corporate apparel to mark the occasion.
We promote a fun, safe and rewarding experience. All fish that is landed is recorded, weighed and measured. We release any fish that is not edible or designated as a trophy mount by the angler. Our goal is to preserve as much fish for future charters as possible. We do offer replica mounts using 100% man-made products for those that wish to mount a fish without a kill.
Awards are typically presented at the end of the tournament for the largest fish, most fish caught, least fish caught, smallest fish, etc. Categories are covered with the master captain. The goal here is to reward everyone with a token plaque or trophy, certificate etc. for their participation. The client can supply whatever they like for the awards. Presentation can be at the dock or at the dinner later that evening. Our master captain is adept at presenting the awards in a professional manner that involves an overview of the day along with some good natured humor and anecdotal stories if desired.
Photos can be taken on each boat and developed in time for an awards dinner (2-1/2 hour minimum) to be shown during the presentation if desired. A digital slide show requires your laptop with LCD projector or other media for slide show.
We look forward to having you out on our SPORT FISHING BOATS, catching fish and creating memories that will last a lifetime.
PRIVATE SPORT FISHING TOURNAMENTS
FOR THAT FISH OF A LIFETIME!!
WE HELP YOU CATCH BIG FISH
SO YOU CAN LAND MAJOR CLIENTS
"Everyone caught fish; shark, sailfish, tuna, it was great all around"