44′ Lagoon Catamaran
Available for 4 hour, 8 hour, Multi-Day trips.
LAGOON 44 CATAMARAN
Location:  Fort Lauderdale, FL   Best layout on the water!  Superb spaces outside on the fore-deck with bow seats, twin nets and a built-in "rumble seat".  The aft deck area is well shaded and features a wet bar and wrap around sofa seating.  Wide decks connect all areas for easy access throughout.  Twin staircases provide safe water access.  A great feature is the elevated helm station which provides greater visibility and more guest social spaces too.  Inside, the main salon is very open, airy and naturally lit with wrap around windows and skylight hatches.  A cushy salon with dining area and elongated galley offers the right blend of storage and function.  This model has a patio door and pass-through windows for a nice flow.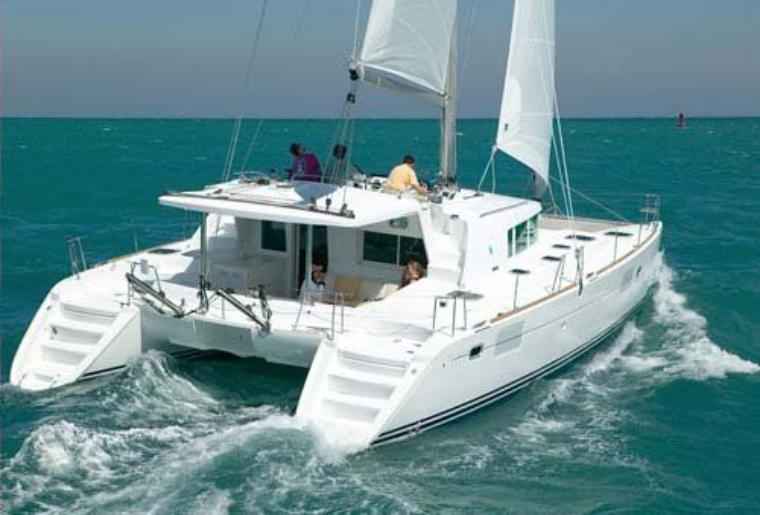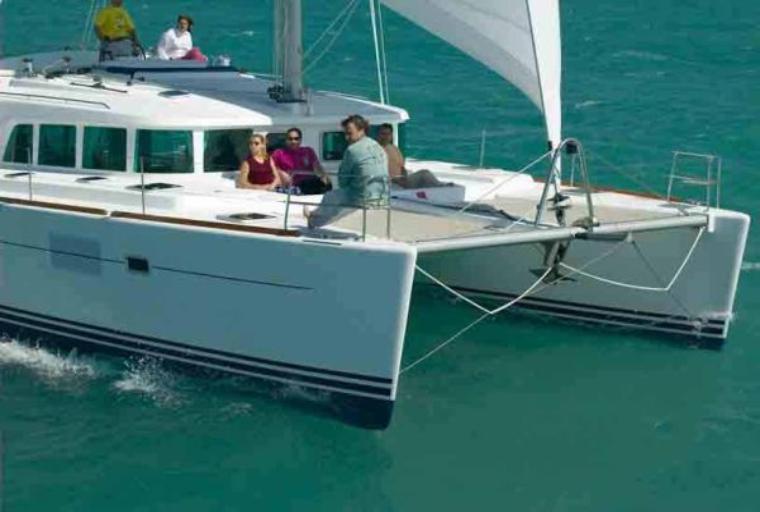 This one has great spaces to sit and enjoy the sailing experience.  This fore-deck is best in class. The bow seats, nets & "rumble seat" offer a variety of seating options.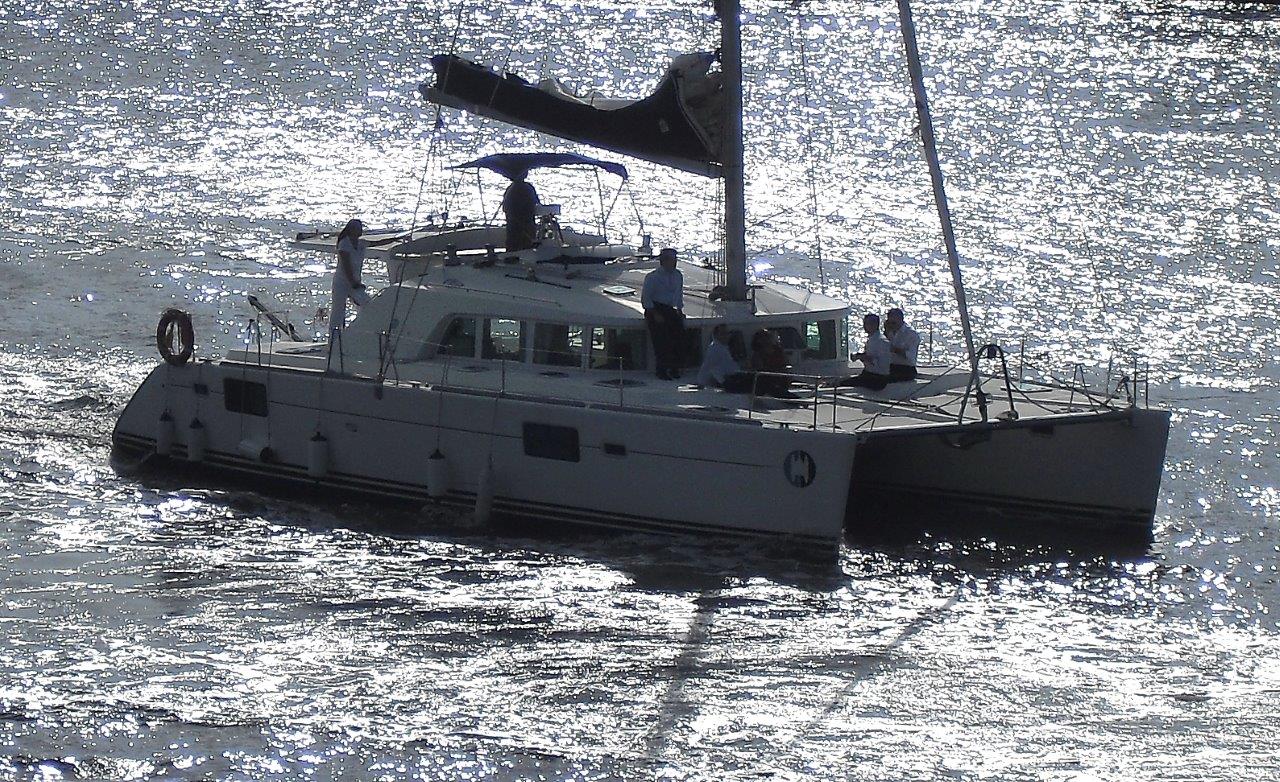 Enough room for all guests to enjoy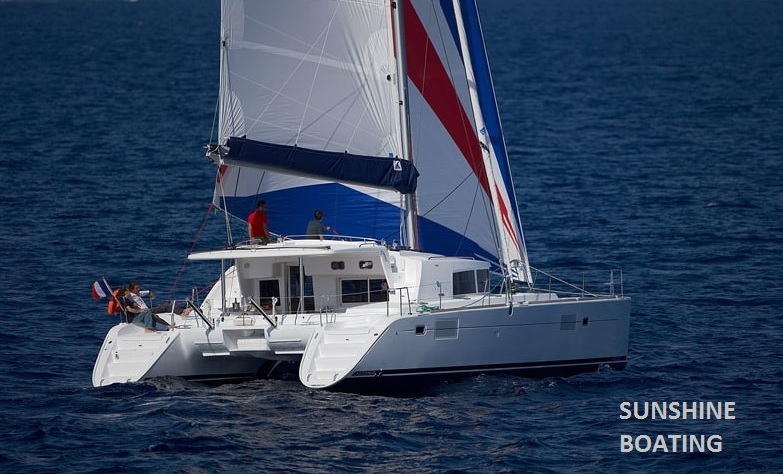 Large and bold stance, very smooth platform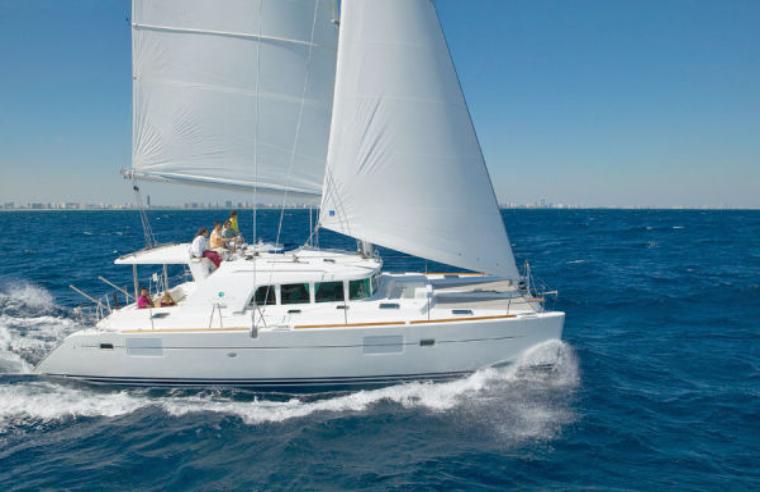 Come sail with us aboard this fine catamaran.  Great spaces under the sun or shade. Plenty of seating areas, dining space and open decks for laying about.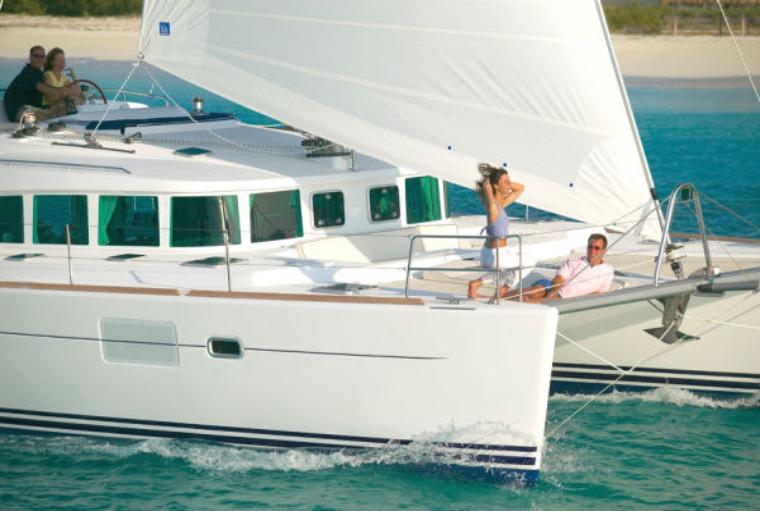 Very comfortable sailing cat from the elevated helm station to the amazing fore-deck.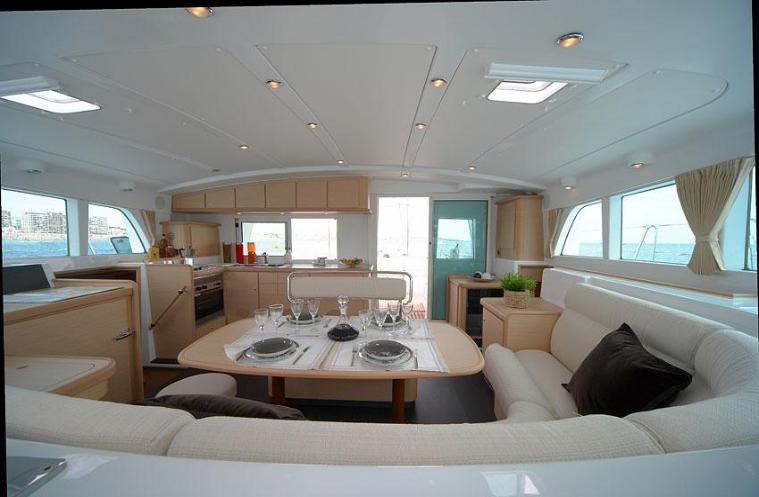 Factory shot of main salon shows large U-shaped sofa seating around the dining table.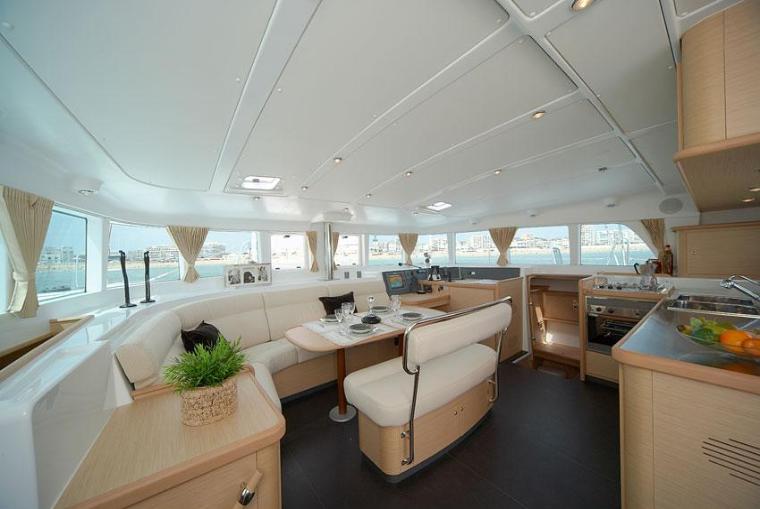 Factory salon shot shows the galley location, navigation station and dining area.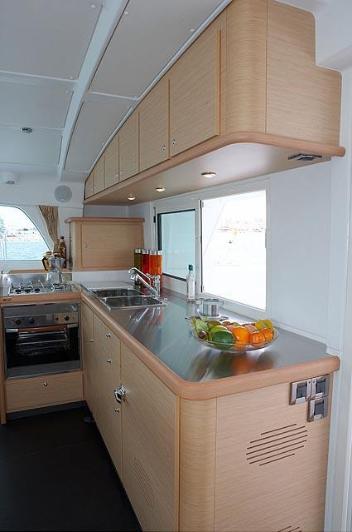 Stainless counter tops compliment this generous galley.  A nice feature is the sliding window and patio door which opens the room and connects it with the aft deck into one large continuous space.  Lagoon cats have a wonderful flow inside and out.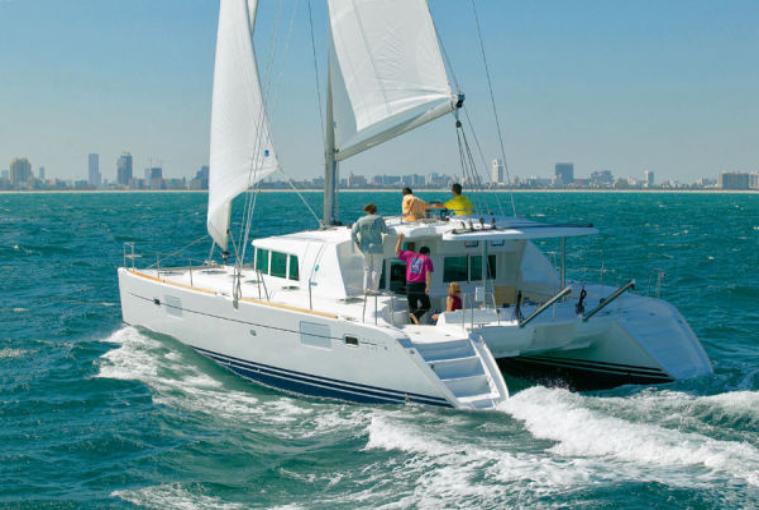 This model is wide and provides an excellent sailing experience.  Great flow top to bottom, inside and out.  She earns high marks for her great aft deck area too.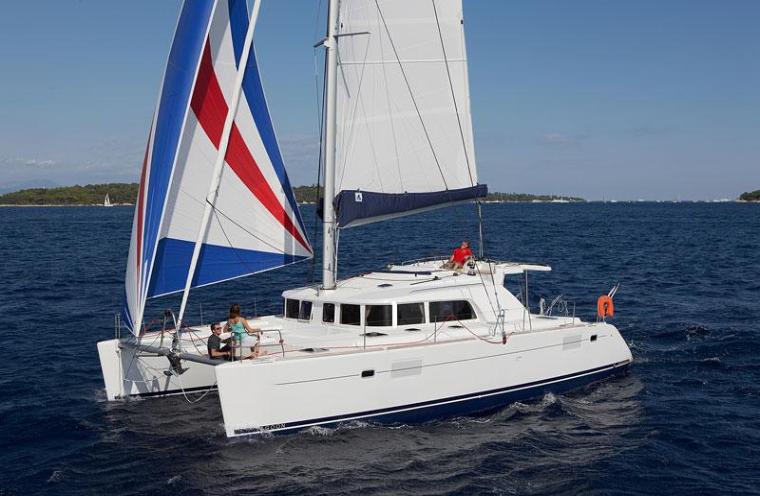 Factory shot of the 440 underway. A fine platform for a multi-day trip.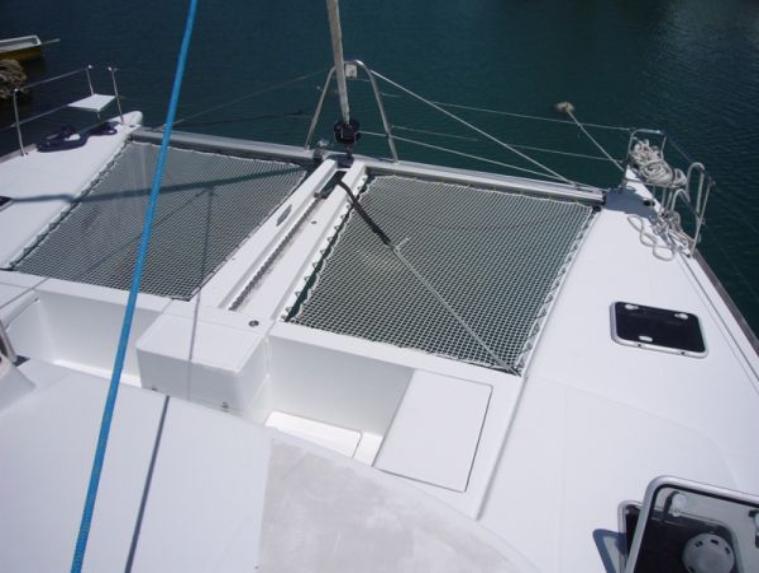 You can use 100% of this yacht. Bow seating, two large nets and a "rumble seat"
Sit and relax with food and beverages or a good book in the "rumble seat"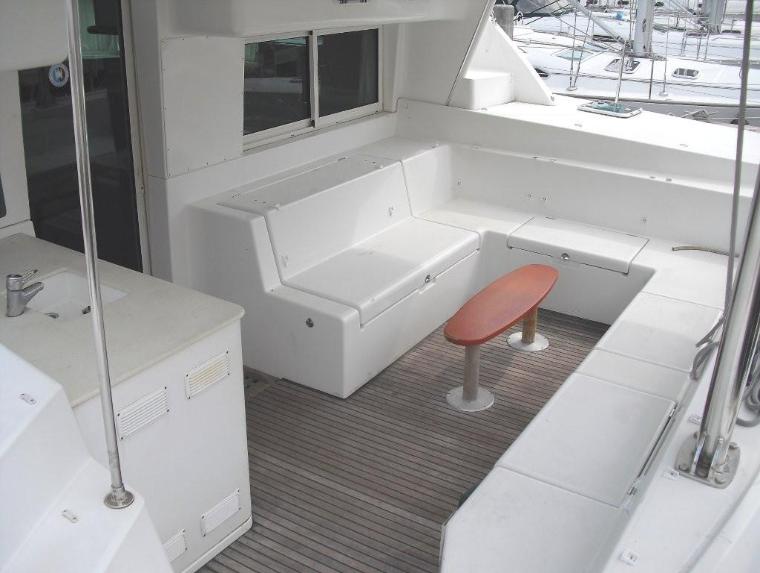 Covered aft deck area with wet bar, wrap around sofa seating and easy access to the main salon via the patio door and sliding window. A generous amount of space.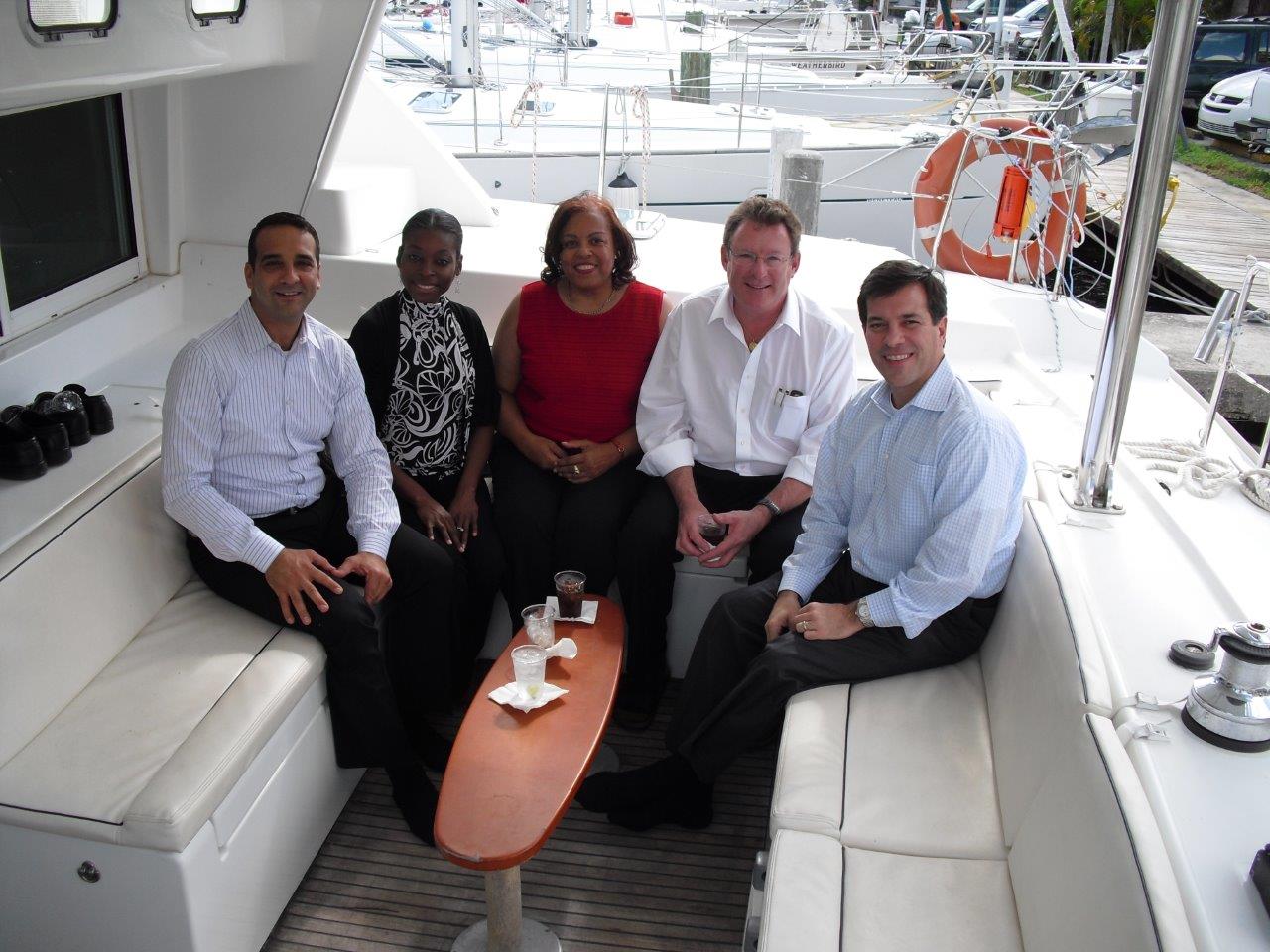 Great for an after work cruise on the Intracoastal Waterway
Factory shot of the aft deck. This best in class offering is very comfortable.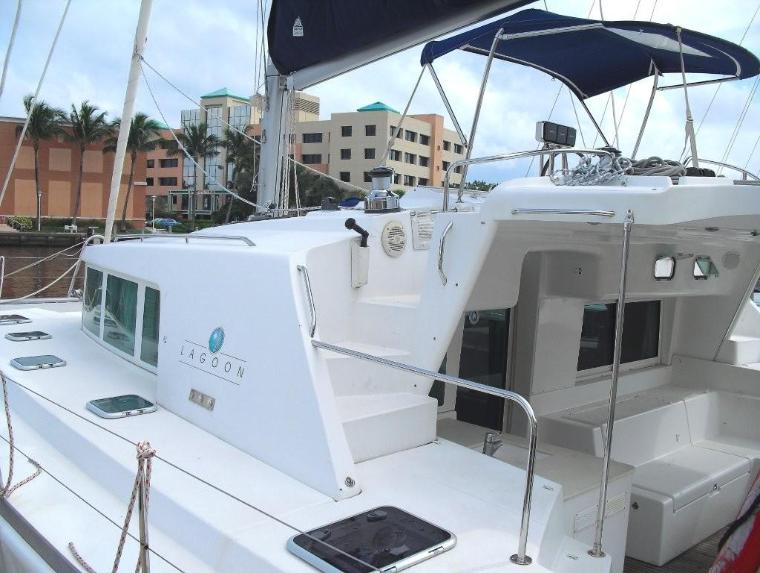 This model is superb. Elevated helm station for greater visibility, a wider platform, more hatches for greater airflow below deck and with easy access all around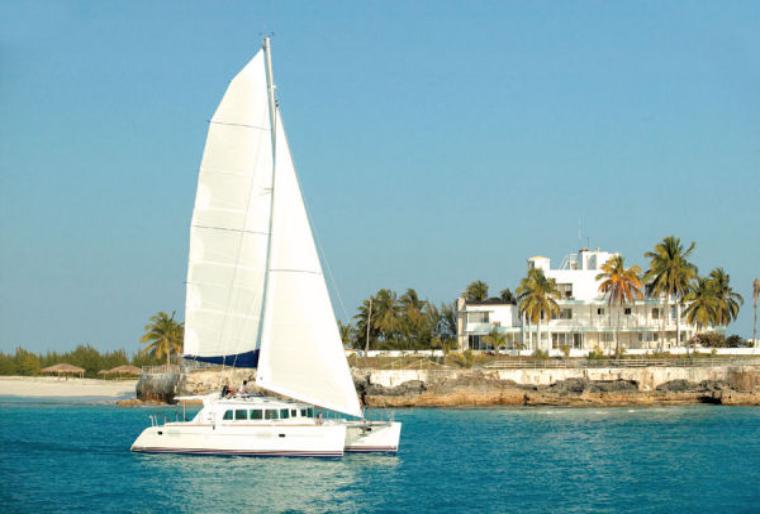 This one is perfect for a single day or multi-day captained charters. She is also available for 'bareboat' charters for 3 nights minimum to qualified charter customers with sailing experience.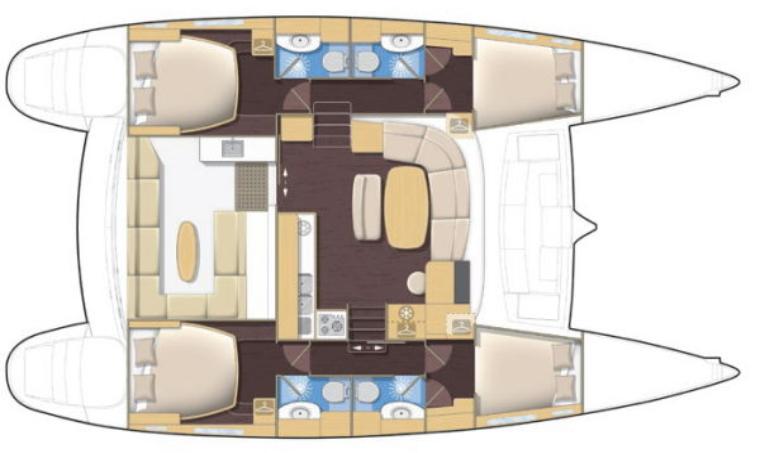 The layout above shows the four cabin, four head model or "Charter Version" 2005
Yacht Info
Lagoon Sailing Cat 440 OV / CV