40′ POWERCAT
Available for 2 hour, 4 hour trips.
POWERCAT 40 – MIAMI, FL  30 GUESTS
Location: Miami, FL (Downtown). This POWERCAT 40 is a Miami favorite for cruising around the tranquil waters of Miami, Miami Beach, Key Biscayne and the surrounding islands. Certified for a maximum of 30 guests plus our crew, the vessel is ideal for a combined sight-seeing, swimming, snorkeling and ocean kayaking experience. Listen to tropical music, enjoy complimentary beer, wine, soda and bottled water and relax as we cruise to the best locations. This vessel is also great for party cruises, intimate / casual weddings, corporate team building and a family get together boat. She is one of the best options for groups that seek a floating island party at the sandbar. This is our most popular "command vessel" for multiple boat regattas. Want to spice up the event?  She is ADA compliant and features a chair accessible bathroom and lift for getting into and out of the water Full catering is available or you can bring your own ready to eat meals. She truly delivers a fun experience. NO OUTSIDE ALCOHOL PERMITTED. NO JET SKI MEET-UPS.  CATERING OPTIONS AVAILABLE.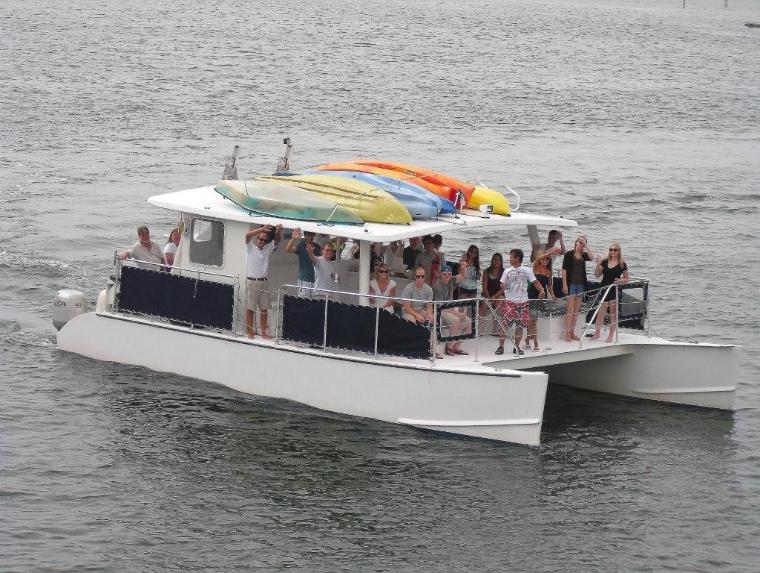 OFF ON ANOTHER ADVENTURE!!FUN TIMES FOR ALLHOW ABOUT AN ISLAND PARTY?PARADISE IS MINUTES AWAYWE CAN NEARLY BEACH THIS ONECOME PLAY WITH USYOU KNOW YOU WANT ITSHADE AND STORAGE,  BATHROOMWE CAN RENT ADDITIONAL TOYS TOO

OFF WE GO
Yacht Info
MickBuilt Custom